IndiaSkills Competition is organised by National Skill Development Corporation (NSDC), an apex skill development organisation working under the Ministry of Skill Development and Entrepreneurship (MSDE). IndiaSkills, the country's biggest skill competition, is designed to demonstrate the highest standards of skilling and offers a platform to young people to showcase their talent at national and international levels. IndiaSkills Competition—regional and national—is held every two years with the support of state governments, industry, Sector Skill Councils (SSCs), State Skill Development Missions (SSDMs), corporates and partner institutes. IndiaSkills Competition has the potential to reach the grassroot level and make an impact.
IndiaSkills Competition 2021
IndiaSkills 2021 National Competition was held from 6 to 10 January 2022. Participants from 26 states/ union territories displayed their talent in 54 skills such as Beauty Therapy, Hairdressing, Cyber Security, Floristry, Robot System Integration, Cloud Computing, Water Technology, Painting and Decorating, Health and Social Care, among others.
Results for IndiaSkills 2021
BEAUTY THERAPY
NAME
MEDAL
CITY
Beauty Therapy
Rinkal Karotra
Gold
Maharashtra
Beauty Therapy
Rojalin Brahma
Silver
Odisha
TIE
Beauty Therapy
Pritisha Barman
Silver
Assam
| HAIRDRESSING | NAME | MEDAL | CITY |
| --- | --- | --- | --- |
| Hairdressing | Charmi Sen | Gold | Rajasthan |
| Hairdressing | Abdul Rahim | Silver | Delhi |
| Hairdressing | Vijay Kumar M | Bronze | Karnataka |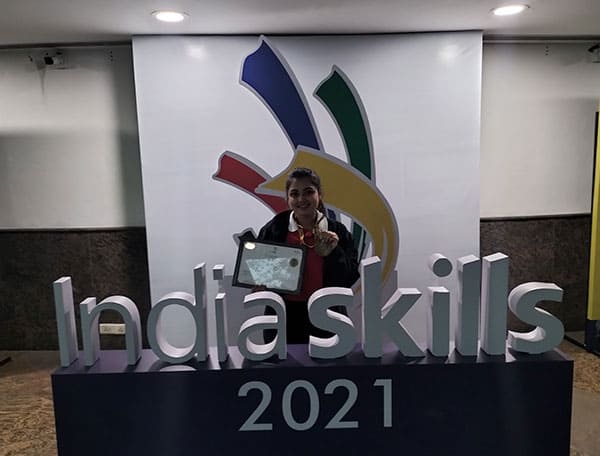 Rinkal Karotra – Beauty Therapy
(Gold)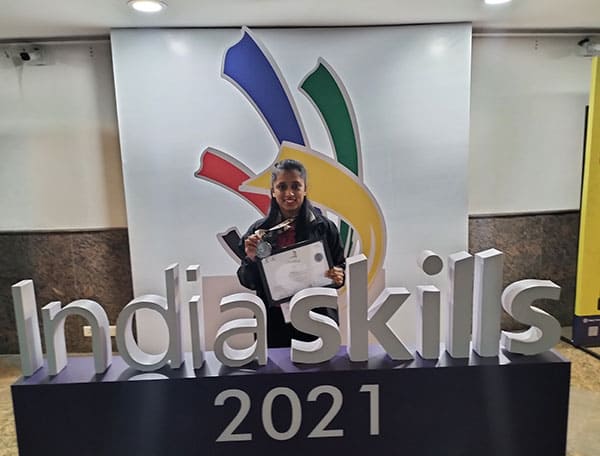 Rojalin Brahma – Beauty Therapy
(Silver)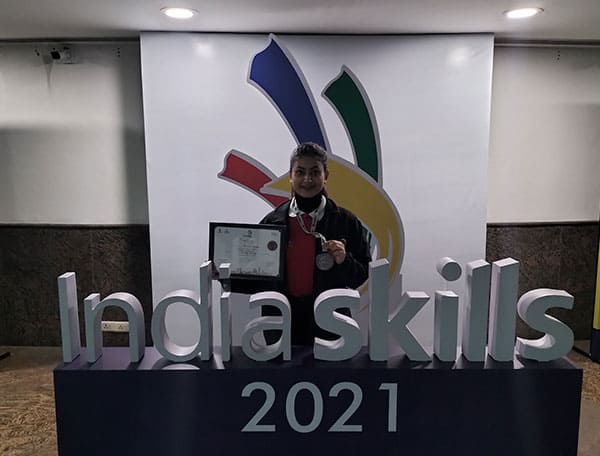 Pritisha Barman – Beauty Therapy
(Silver)
Charmi Sen – Hairdressing
(Gold)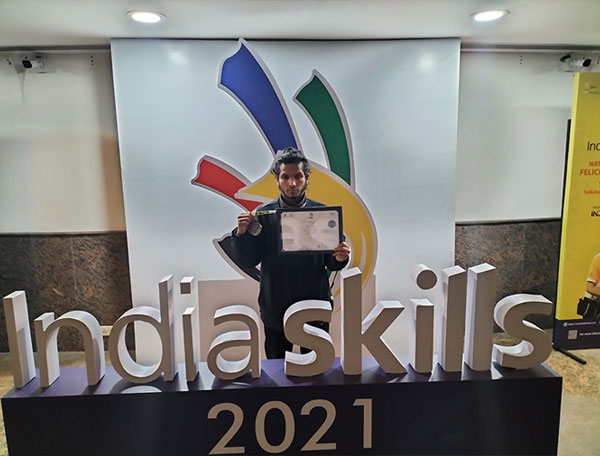 Abdul Rahim – Hairdressing
(Silver)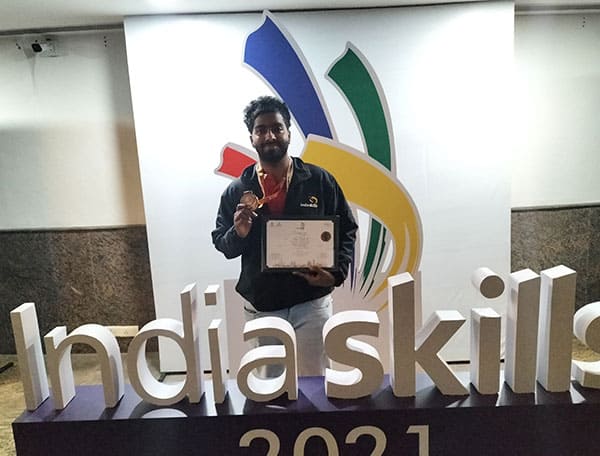 Vijay Kumar – Hairdressing
(Bronze)
IndiaSkills Regional Competition
IndiaSkills 2021 has been one of the biggest skills competitions in the country, which witnessed participation of 26 states/ union territories in 54 skills including seven new-age skills introduced this year. More than 1,300 candidates participated in four regional competitions held in Patna (East & North East), Gandhinagar (West), Chandigarh (North) and Vishakapatnam (South) during October-December 2021.
Results for IndiaSkills 2021 (Regional and National Competitions) – Hairdressing
Hairdressing – North Region
| MEDAL | COMPETITOR'S NAME | STATE |
| --- | --- | --- |
| Gold | Abdul Rahim | Delhi |
| Silver | Madhu Gupta | Chandigarh |
Hairdressing – East & North East Region
| MEDAL | COMPETITOR'S NAME | STATE |
| --- | --- | --- |
| Gold | Geetanjali Boro | Assam |
| Silver | Jenny Lalbiakpari | Mizoram |
| Gold | Sugyani Manjari Dakua | Odisha |
| Silver | Bishal Sardar | West Bengal |
Hairdressing – West Region
| MEDAL | COMPETITOR'S NAME | STATE |
| --- | --- | --- |
| Gold | Charmi Sen | Rajasthan |
| Silver | Yes Chavan | Maharashtra |
Hairdressing – South Region
| MEDAL | COMPETITOR'S NAME | STATE |
| --- | --- | --- |
| Gold | Jui Sapke (Wild Card) | Maharashtra |
| Silver | Deepak K | Karnataka |
| Silver | Viay Kumar | Karnataka |
Results for IndiaSkills 2021 (Regional and National Competitions) – Beauty Therapy
Beauty Therapy – North Region
| MEDAL | COMPETITOR'S NAME | STATE |
| --- | --- | --- |
| Gold | Bhavika Dhamija | Delhi |
| Silver | Smarpika | Haryana |
Beauty Therapy – East & North East Region
| MEDAL | COMPETITOR'S NAME | STATE |
| --- | --- | --- |
| Gold | Pritisha Barman | Assam |
| Silver | Nikita Devnath | Tripura |
| Gold | Rojalin Brahma | Odisha |
Beauty Therapy – West Region
| MEDAL | COMPETITOR'S NAME | STATE |
| --- | --- | --- |
| Gold | Komal Kodilkar | Maharashtra |
| Gold | Rinkal Karotra | Maharashtra |
| Gold | Disha Sonawane | Maharashtra |
Beauty Therapy – South Region
| MEDAL | COMPETITOR'S NAME | STATE |
| --- | --- | --- |
| Gold | Sreelakshmi P.S. | Kerala |
| Silver | Anju Raghu | Kerala |